A Free Mind is VJing – Live on Festivals, Events or at your Club ... Take a Ride ...
A Free Mind is VJing ... Partying at the Clubs and browsing the Record-Shops, Chris hits the Techno Scene in the mid 90s. Record-Covers, Flyers and Magazines
 attracts his interest in Design and inspires early creative Artwork. He initially focuses on Print Media, working for Event Organizers, Club Owners and DJs. In January 2009 he takes the next Step: He starts VJing to be able to work more creatively in the Scene. His live Performance combines Graphic Elements and Film, 3D-Animation and Typographical Gimmicks – 
the Visuals are clear, digital and strictly Graphical. 
Everything ... www.afreemind.net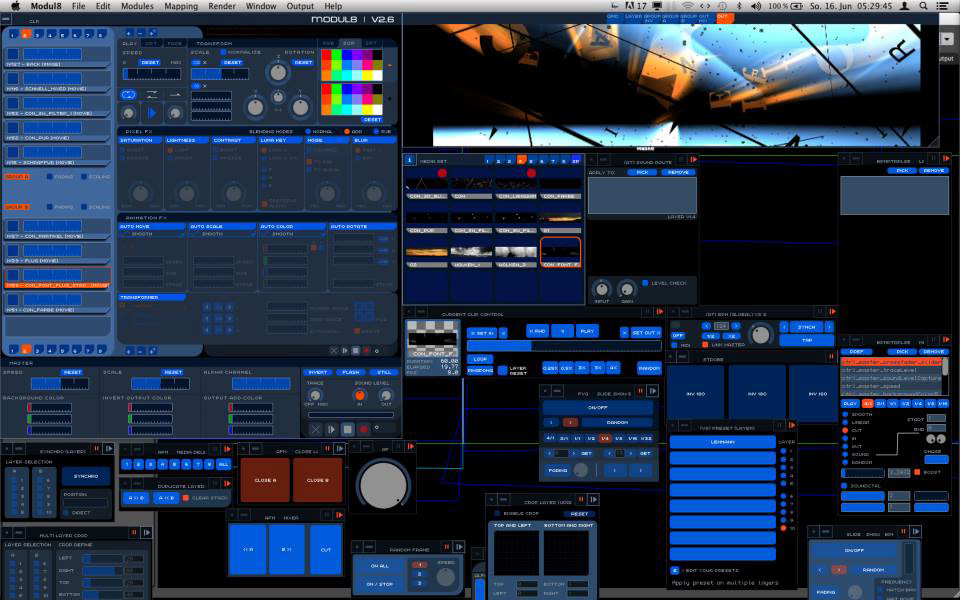 FESTIVALS – Selection
Sonne Mond Sterne Festival, Saalburg, Germany / 2012, 2013, 2014, 2015
Stuttgart Electronic Music Festival – SEMF, Stuttgart, Germany / 2011, 2013, 2014, 2015
Infinita, Madrid, Spain
Electron Festival, Geneva, Switzerland
Nature One Festival, Kastelaun, Germany
Live Performers Meeting, Rome, Italy
Mapping Festival, Geneva, Switzerland
Day & Night Festivals, Stuttgart, Sindelfingen and Rottweil, Germany / 2011, 2012, 2013, 2014
Sonarwave Festival, Cologne, Germany
FMX (Conference on Animation, Effects, Games and Transmedia) Afterparty, Stuttgart / 2012, 2013, 2015
Songkran Festival, Stuttgart / 2x 2015
Sexy, Cologne, Germany
Carry On Festival, Stuttgart
Ganz weit draußen Festival, Sinsheim, Germany / 2013, 2014
Sun & Moon Festival, Rottweil, Germany

CLUBS – Selection
Lehmann Club, Stuttgart, Germany (Resident VJ)
Rocker 33, Stuttgart, Germany
Cocorico, Riccione, Italy
Metropolis, Naples, Italy
ZOO Club, Geneva, Switzerland
Nordstern, Basel, Switzerland
Mute Club, Istanbul, Turkey
Harry Klein, Munich, Germany
Crash, Freiburg, Germany
Loft Club, Ludwigshafen, Germany
Alte Papierfabrik, Cologne, Germany
Die Rakete, Nuremberg, Germany
Altes Theater, Magdeburg, Germany
Sartory Säle, Cologne, Germany
Toy, Stuttgart, Germany
Romy S, Stuttgart, Germany
Zollamt, Stuttgart, Germany
FIRM EVENTS - Selection
Mit Bewegte Bilder für FMX Conference und das Internationale Trickfilmfestival Stuttgart
Mit JP Promotion, Event-Marketer für Benson & Hedges
Mit Bambus Veranstaltungstechnik für Energy Capital Invest, Audi, Deutsche Öl & Gas
2011 Summer Reel : 2011 : Presenting clippings of my latest Footage.
The wide format of the Reel corresponds to my preferred VJ-Setup - a Multi-Projection with 3 Projectors or Screens.
K-Paul (käosmüsik, Berlin) at Rocker33, Stuttgart, Broombeck *Live (Opussum, Frankfurt) at Rocker33, Stuttgart,
Sono (Hamburg) at Rocker33, Stuttgart, Audiobotique (Stuttgart) at Rocker33, Stuttgart
LIve-Reel. 2010
Slam (Soma), Extrawelt, Live (Border Cpmmunity), Ellen Alien (BPitch Control), Johannes Heil, Live (Cocoon), Mapping Festival (CH), Marco Carola (Minus), Cassy (Cocoon)
Live-Review. 9.10.2010
Mapping Action for Salon Rossi at Rocker 33, Stuttgart. On Stage: Extrawelt *Live*